Have you ever gone through (or currently going through) a season where it was hard to believe that God's word will work for you? It seems regardless of how hard you pray, God wasn't listening.
You read your Bible, looking for answers. You go to church hoping that God would send someone with a word that's tailored made for you. No matter what you do, your situation does not change.
Still no money, no job and no ring on the finger. Then you begin to question whether or not God hears you.
The struggle is real because now it's in your head.
On the inside, you start to doubt everything you've been taught to believe. If you have to hear:
"Delight yourself in the Lord and He will give you the desires of your heart,"
one more time, you're gonna scream!
But on the outside, you have to keep your poker face. You feel pressured to make everyone believe that you're happy and satisfied—when you're anything but. Because if they really knew how you felt, they would judge you or question your faith. The last thing you need right now.
As Christians, it's sometimes easier to believe in God than it is to believe God. That's a pretty embarrassing place to be in because we don't look as spiritual as we should. So we pretend that everything is great and our faith is working for us, just like everyone else's faith.
This is called a wilderness season. During a wilderness season, sometimes you forget who God is. You forget everything He's ever said in His word. In the book of Deuteronomy, the children of Israel were stuck in a wilderness season for 40 years after they left Egypt.
I've been there a time or two in my life.
Me? Yes, me too.
I was discouraged last week when things didn't work exactly how I expected them to.
So, like any child does when their parent doesn't show up on time, I questioned God. I asked Him, "what in the world is going on?" And like any good parent, He showed me who was boss.
He directed me to his word in John 10:38: Jesus said if you can't believe me, at least believe my works.
In this passage, the Jews were having a hard time believing that Jesus was the son of God, no matter how many times He told them. So finally, He said, if you can't believe me, look around and let my works speak for me.
I'm healing the sick. I'm giving sight to the blind. I'm even raising the dead. If that's not good enough for you…..
In Matthew 7:20, Jesus said it again: you should know a tree by its fruit. Judge a person by their actions, not necessarily by their words.
Those scriptures apply to God as well. Judge Him by His actions when you find it's difficult to believe His word. If He's ever answered your prayers before, He can do it again!
If you're having a hard time believing God's word in your wilderness season, reflect on what He's done for you in the past.
So, in the words of Janet Jackson, "what has He done for you, lately?"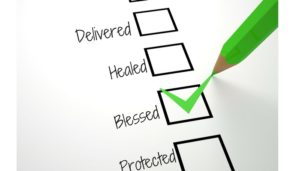 Has He ever healed you?
Blessed you?
Provided for you?
Miraculously opened doors for you?
What about all the accidents He protected you from not having?
Remember how you felt when He came through?
I remember feeling loved, but also silly that I ever doubted Him. I remember looking at the big picture of how things came together. They really did workout for my good. God used everything that I went through to put a tailored made blessing together for me.
2 Things:
I challenge you to write down 5 things that He's done in your life to remind you that He is real and He is a promise keeper. Keep them on your desk, in your car, or tape them on your mirror. Reflect on them as often as you need a reminder to not doubt Him.
Let's encourage each other. I would LOVE to hear some awesome testimonies—no matter how old they are. Leave me a comment below letting me know at least one of the testimonies you will be reflecting on this week.