To get immediate access to the FREE Biblical Affirmations, CLICK HERE. If you would like to learn how words can completely revolutionize our lives, keep reading.
---
Mark 11:22:24 Whosoever shall SAY unto this mountain, Be removed, and be cast into the sea; and shall not doubt in his heart, but shall believe that those things which he SAID shall come to pass; he shall have whatever he SAYS.
When I was a junior in college, I remember needing a better paying job to take care of myself. But after each interview, I kept hearing the same thing over and over again: "you don't have the experience we're looking for."
So I literally began to speak to the mountain of inexperience and command it to be removed and cast into the sea. Not long afterwards, I got a job that typically required a degree and experience– even though I had neither (at that time).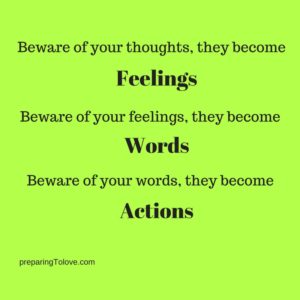 The Bible tells us over and over again that our words have power:
Proverbs 18:21 – You have the power to create death or life with your tongue. Those who love to talk will gain the benefit or the penalty of their words.
Matthew 12:37 "For by your words you will be justified, and by your words you will be condemned."
And in Genesis 1, God created the world using the words "Let there be."
Now it would have been easy to do nothing. I could have continued going to class and to work, then coming home to stare at a pile of bills and cry myself to sleep.
Nothing would have changed.
But I changed my words from: "I'm not good enough"  to  "the mountain of inexperience must move because I am the best person for the job."
My words changed my feelings and my beliefs. My beliefs led me to hire a professional resume writer and to act with confidence on every interview. I held my head up high and acted like I belonged there even though I was scared.
So instead of speaking negative words that reinforce your feelings, speak the opposite! Speak exactly what you want to happen and before you know it, your feelings will change; then your actions will change, and your circumstances will change!
Even though you may not fully believe what you're saying (when you first begin), if you say it long enough, you'll start to believe it. And when you really believe it, you start to talk and act in ways that align with your beliefs.
The best example I can use for this is comedian and actress Monique.  As a child, Monique's parents never called her fat or allowed anyone else to tease her about her weight.
Instead, they encouraged her with positive words so much that she grew up believing that she was just as attractive as any other woman. As a full-figured curvy girl, Monique wanted the world to see that she could do anything that smaller women could do.
At the 2004 BET Awards, she led 6 other curvy girls in a dance to Beyoncé's Crazy in Love and received standing ovations from everyone, including Beyoncé.
Not only did it take an extreme amount of courage to do that in front of millions of viewers, it took belief in herself. She believed that she was attractive enough to pull it off. She believed that she had the energy, sex-appeal and confidence to do it.
And because of her beliefs, her actions proved to the world that curvy women are capable, too.
The first step to changing your thoughts, feelings and actions is to change your words.
Whether you call them affirmations, confessions, or positive thoughts, I've created a list of them for specific areas of your life.
CLICK HERE to access to the printable affirmations.